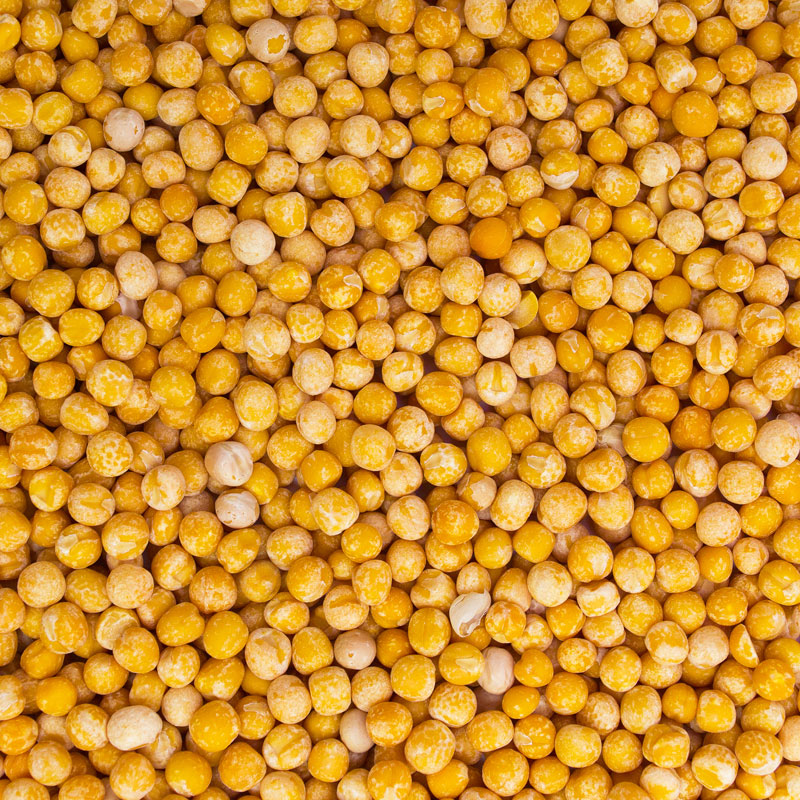 Whole Yellow Peas are part of the legume family. Whole Peas are about 1/4 of an inch wide and pale yellow in color. Whole Dried Peas have a history going back some 10,000 years. Originally from the Middle East, Peas soon spread throughout the Mediterranean region and on to India and China. The cultivation of Peas in Europe helped to stave off a famine in England in 1555. Peas are most commonly used in their split form. Today, Canada is the world's largest exporter.
Dry pea is an annual pulse, legume crop that is consumed throughout the globe. It is usually used in split form and forms integral part of various cuisines of the world. The pea is obtained as seeds from the pod that occurs on the pea plant and is dried in the sunlight to produce dry pea. This crop is considered to be the best crop for the purpose of nitrogen fixing of the soil as it converts nitrogen into nitrogen nodules in large numbers, keeping the soil fertile. Two types of dry pea are cultivated – dry green cotyledon and dry yellow cotyledon.
Nutrition Facts
Amount Per 1 cup, dry, yield after cooking
Calories 737.88
Calories from Fat 123.94
% Daily Value *
Total Fat 13.77g 21%
Saturated Fat 4.87g 24%
Polyunsaturated Fat 2.19g
Monounsaturated Fat 5.7g
Cholesterol 11.1mg 4%
Sodium 1282.7mg 53%
Potassium 1940.7mg 55%
Total Carbohydrate 113.16g 38%
Dietary Fiber 44.49g 178%
Protein 44.71g 89%
Alcohol 0g
Vitamin A 1 % Vitamin C 4 %
Calcium 8 % Iron 38 %
Vitamin D 0 % Vitamin E 5 %
Thiamin 51 % Riboflavin 15 %
Niacin 24 % Folate 87 %
Vitamin B-6 13 % Vitamin B-12 0 %
Phosphorus 53 % Magnesium 48 %
Zinc 36 % Copper 49 %
Advantages of Yellow split peas
Source of Protein
Protein, which is present in every cell of the body and a major component of organs, muscles and skin, is an essential part of the diet. One cup of cooked yellow split peas contain 16g of protein, according to the World's Healthiest Foods. Plant-based proteins, including split peas, are considered incomplete proteins because they do not contain all nine amino acids. Eating rice along with split peas provides a complete protein, Medline Plus says. Yellow split peas and other foods high in fiber also help stabilize the level of sugar in the blood, which may benefit sufferers of hypoglycemia, insulin resistance and diabetes.
Source of Molybdenum
Yellow peas are a source of molybdenum, an essential mineral that enables cells to function normally, activates some enzymes and metabolizes nitrogen. It also helps break down and detoxify sulfites, substances that may be added as preservatives or that occur naturally in foods. Foods high in sulfites, such as those from delicatessens and salad bars, can cause a sensitivity reaction in certain people, producing a rapid heartbeat, disorientation and headache. Sufficient stores of molybdenum in the body may reduce this reaction.
High in Vitamins and Minerals
Yellow peas are a source of vitamin B1, or thiamin, potassium and phosphorus, according to Legumeworld. They are also a source of folate, the natural form of folic acid, a B vitamin essential in the formation of new cells. Folate is of special importance during periods when cells divide rapidly, such as in pregnancy and infancy, according to the National Institutes of Health Office of Dietary Supplements.